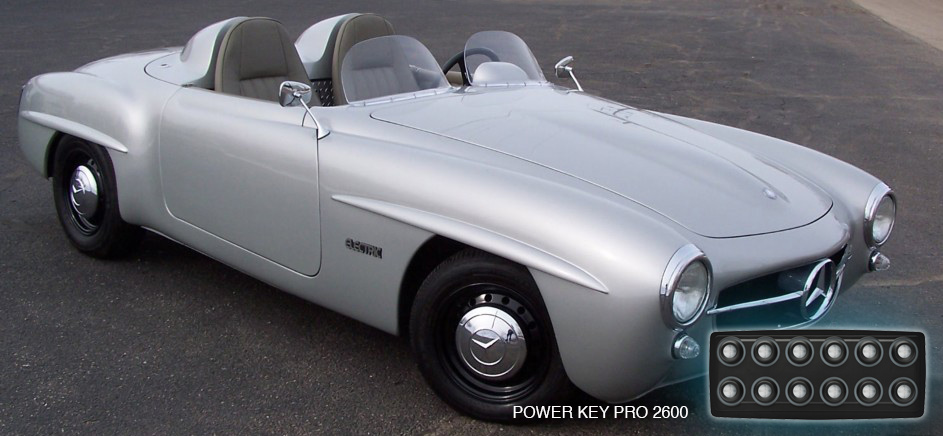 We sat down with Collin Kidder, CAN bus Protocol Hacker and early adopter of the CAN bus relay module Keybox. Together with his staff at K & K Manufacturing, Kidder has used Keybox for a project for the full electric conversion of a historical automobile:the 1959 Mercedes Benz 190SL. Thanks to Keybox, Kidder was able to significantly extend the car's capabilities. Now, in addition to a fully electric 100kW engine (UQMPowerPhase100), the car can boast evolved instrumentation including cruise control and a twelve-key CANKeypad…
Can Keypad Configuration
Keypad Configuration:
Turtlemode: Dropsmaximumpowerdowntoabout70%
Rabbitmode–Fullpowerforacceleration
Park–Essentiallyneutral–Nopower
Reverse–Backwarddriving
Accelerate – Cruise control – increase set speed
Decelerate – Cruise control – decrease set speed or set initial speed
nr 1 – Light Regen
nr 2 – Heavy Regen
nr 0 – No Regen
Fan – Force cooling fans on
Hazard – Turn on four way hazard lights.
I also used the PowerKey PRO 2600 pad. This allowed me to easily add even more things that the car would never have had otherwise. I added cruise control to a 1959 car! The keys were also used for shifting (the car was originally a stick shift and we removed the transmission), to trigger emergency four way lights, and to be able to manually force the cooling fans on. The button faces are much nicer and more numerous than other company's button faces, so we were able to nd a set of self explanatory button faces that look really nice.